Our special projects that reflect what we love, our passion for design, for creation, for society, for earth, for beauty . . .
"Creativity Power & Responsibility in Communication" by Elena Davaris
University of Abu Dhabi
– 1st International Conference on Media and Communication
Communication is connecting things; is connecting people and ideas.
Creativity is connecting things better. 
Creativity comes from emotion and reason.
When derived from an emotional approach creates increased comprehension and optimization, which leads to effective communication and a very strong impact on the people.
Effective communication gives power and, responsibility for the outcome is derived from that power.
"Social Event Concepts and their cultural offer to the brand of our country" by Elena Davaris
9th Panhellenic Congress of HAPCO
-Panhellenic Congress of Hellenic Association of Professional Congress Organizers-
A country full of culture and fascinating images from the past to the future, images, and stories that accompany its presence.
Our lovely guests seek the special hospitality of the place, learning through fun and entertainment, through special events about our history and culture.
A conference is an opportunity through our entertainment programs and thematic evenings of our events to give them what they desire most, attractively presented information on history and culture.
Let's play, let's dance, let's enjoy landscapes and spectacles, performances and sunsets, tastes and aromas from the place, from the culture, from nature from the people. . .
"Branding and Image Making" seminar by Elena Davaris
Academy of Politics Alexandros Papathanassiou
– "Society of Values", a political party
The importance & Power of Communication & Branding.
Where our values are coming from & where they show off.
Image making, from inside out & from outside in . . .
In the context of training the members of the "society of values" political party, through the educational organization "Academy of Politics Alexandros Papathanasiou", was held the communication training seminar "Branding and Image Making" by Elena Davaris
The Art Project _A story _ A Typographic Installation
When letters become forms, become figures . . .

Inspirational Keywords: typography, letters, writing, communication, history, tradition, creativity, strategy, game
Combining Valuable Writing
"Let's play chess
A waterfall penetrates the words, "gets what he wants" and creates the form . . . – a game with typography – a game of chess – a typographic installation as it should be . . ."
Ancient Light
the neon collection _a dialogue between modern and ancient . . . "from where all began and here we go on . . ."
Children portraits 
"from dream to reality" – "a sensitive look into the future"
Abstract
Lights & Lines & Routes & Tracks & Thoughts & Adventures . . .
Social Event Concept for (Hellenic Association of Congress Organizers) Hapco's annual Conference at Hellenic Cosmos – Gala Dinner.
Concept, Adaptation, Designs, Space Graphics, Art de la table, Costume Design & Choreography by Elena Davaris
"Once upon a time, there was Nefelokokkigia . . . between gods and humans; there was the "powerful" birds' country . . . that Aristophanes imagined and created . . .  with his magical, satirical, ancient speech . . . "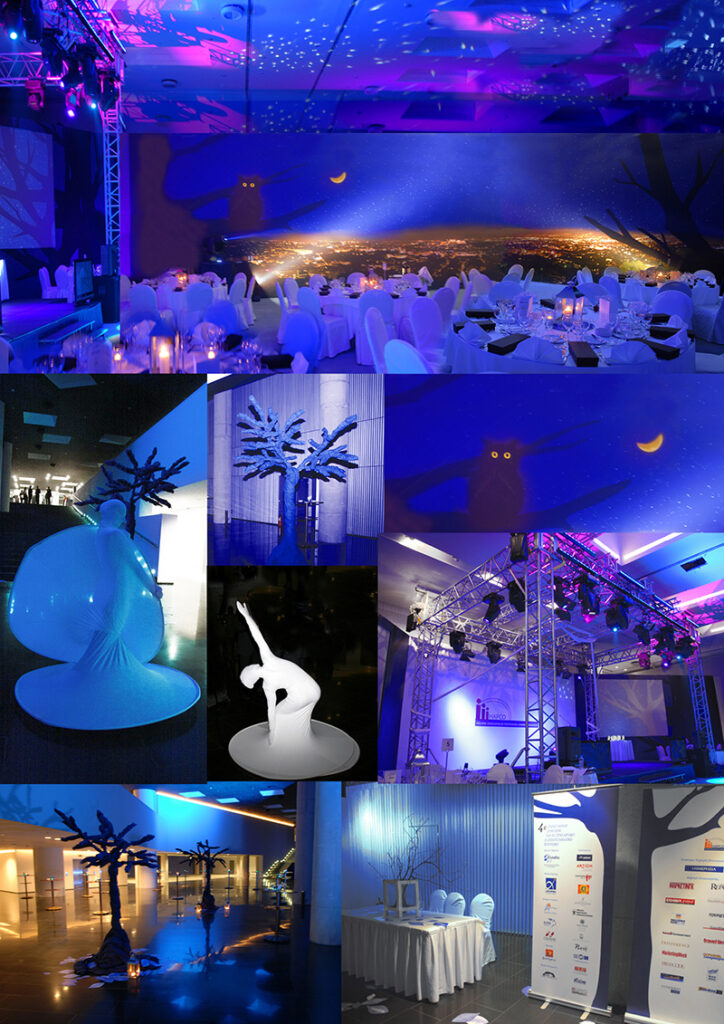 Social Event Concept for (Hellenic Association of Congress Organizers) Hapco's annual Conference – Gala Dinner.
Concept, Designs, Space Graphics, Decoration, Banners, Invitation, Menu.
Looking down on Athens, the illuminated Acropolis . . . a wise owl is with us, into the shadows, into the light. . .
Transforming the conference venue, into an atmospheric city by night, decorated with the lights of the starry sky and with the shadows of nature . . .
Poems and excerpts from texts by ancient and modern Greek poets and writers are displayed in space.
The shadows of the "blue" trees dominate the foyer. And with them, leaves lie there. . . printed shaped leaves with words and values . . culture, creativity, cooperation, equality. . .
Stage Design & posters, for Evridiki Theocleous
A musical and theatrical Performance
Me (Εγώ) – You (Εσύ)
Kiss me . . . Love me . . .
The mirror, the music, the ballads, the violin, the doll, the memories, the songs . . . Evri's magical voice . . .
Directed by Dimitris Malissovas
Costumes by Stelios Koudounaris
Stage Design & Posters by Elena Davaris
Stage design for "Belly dance European Festival"
The starry sky and the moon that embraces the music and the movements and the figures . . .
Creativity, Power & Responsibility in Communication
Our website is designed and developed by our creative team.
Copyright © Davaris Creative Design 2022